Fallen married woman / Ochiru hitozuma / Падшая жена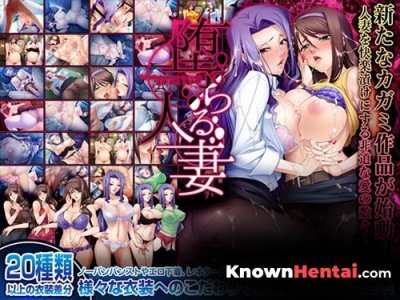 Audio:
jpn, AAC, Stereo, 48.0 KHz, 19.1 kbps
Video:
848-632, 4-3, 29.97 fps, AVC, 399 kbps
 * Betrayal of surrendered wife: a mating adventure! 
The theme is [ netori ]! Friend's beautiful mother, beautiful newly married
teacher--- Years of subtle increased love drugs and a mounting lust carve a
craven addiction to womb gapeface acme that topples a dignified, once virtuous
woman to the domain of wanton pleasure! 
* Choose your seduced sexual trainee! 
The gorgeous milf of your friend, the hot female teacher, it's your choice!
Multiple endings change drastically based on training!! Homewrecking!? Hidden
pregnancy!? A new victim!? 
* Tons of heinous love play that addicts the wife to pleasure! 
Literal walk of shame and pitiful embarrassment public exhibition training,
blowjob in the staff room without husband knowing, wild sex in the bed beside
her sleeping husband (etc) outrageous unfaithful sex training, leotard,
hotpants, lingerie, tights and stockings spank sex, massive cum swallow sex
show hentai training like a sow in heat, and more, a huge variety of beautiful
adult women's pride destroying netori (cuckoldry) training! See eros in
detailed stockings without panties and erotic underwear, spandex and see-
through (!) spandex, ero swimwear, etc.! 



Screenshots And Videos Fallen married woman / Ochiru hitozuma / Падшая жена: